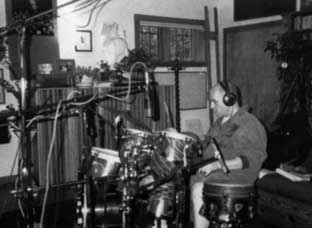 "Everything I do, I want to swing. I think music needs to swing no matter how abstract it gets. In fact, the more abstract, the more intellectual it gets, the more it needs to swing because that's the balancing factor."
-Bob Moses
Bob Moses began playing drums at the age of ten and was composing music by the time he was fourteen. His father, Richard Moses, was a press agent for various jazz artists including Charles Mingus, Max Roacch and Rashaan Roland Kirk. He first sat in with Mingus when he was about 12 and in 1964 began playing drums on two of Roland Kirk's albums. Soon after he became an important part of the 1960s new jazz scene, playing in groups with guitarist Larry Coryell and later, in 1968 with the ground breaking Gary Burton quartet.
After touring with famed drummer Jack DeJohnette, and saxophonist Harold Vick in 1973, he went on to play with the Mike Gibbs orchestra in 1974 and rejoined Gary Burton's group in 1974. In 1975 he recorded the brilliant trio album Bright Size Life with Pat Metheny and the late Jaco Pastorious. He also started his own record label, Mozown Records, and released Bittersuite in The Ozone and the critically acclaimed albums, When Elephants Dream of Music (1982) and Visit With The Great Spirit (1983). These two albums firmly established Moses as a highly original composer and orchestrator in addition to his percussion prowess. Critic Nat Hentoff wrote:
"No orchestral composer of this scope, mellow wit, and freshly distintive range of colors has come along since Gil Evans"
In 1987, Pat Metheny said of Moses' album The Story of Moses:
"A masterwork of conception and sound -- one of the most important records of the last decade"
Currently an instructor at the New England Conservatory of Music, Moses continues to be regarded as one of the most original and daring modern jazz musicans. His influences range from the early masters, Ellington, Monk and Miles Davis, to ethnic sources from Africa and Latin America. Often playing with special sticks and custom drums, Moses pays as much attention to his sound and tone as he does to the rhythm.
all materials copyright 1998 Adam Berenson and John Billington